People
Professor Philipp Schröder joins the Government's productivity commission
Since 2 May, Professor Philipp Schröder from the Department of Economics and Business has been a member of the Government's productivity commission. The commission consists of unaffiliated experts, who are to draw up new ideas as to how Danish productivity can be strengthened.
The members of the Government's productivity commission have now been appointed. In addition to Phillip Schröder, the commission consists of:
Chairman of the commission, Professor Peter Birch Sørensen, University of Copenhagen
Carl-Johan Dalgaard, Professor, University of Copenhagen
Agnete Gersing, Chief Executive, Danish Competition and Consumer Authority (official)
Hans Nikolaisen, Chief Executive of Randers Municipality
Agnete Raaschou-Nielsen, former Chief Executive and now a member of the board at several private businesses
Jan Rose Skaksen, Professor, Copenhagen Business School
Birgitte Sloth, Vice-Dean, Professor, University of Copenhagen
Anders Sørensen, Professor, Copenhagen Business School
What the productivity commission does
The work the productivity commission carries out is based on Denmark's productivity objectives, which show that, since the 1990s, Danish productivity has lagged behind in comparison to other countries, which we typically compare ourselves with.
- By analysing the underlying factors of the productivity numbers we will be able to identify solutions and recommendations, which can turn this development around, says Professor Philipp Schröder.
The commission involves expertise from the outside, including international experts and relevant organisations and institutions.
- Personally, I am looking forward to this process as we are thinking outside the box. When all comes to all, the work of the commission will help improve the productivity as well as the growth in Denmark. Increasing productivity isn't necessarily about doing things quicker, but getting the most out of your efforts, says Phillip Schröder.
In order to create an on-going debate about the commission's work will be open to the public.
During the process, the commission must publish progress reports and conclude its work at the end of 2013.
Further information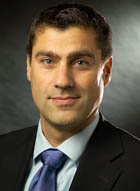 Professor Phillip Schrøder
Mail: psc@asb.dk
Tel: +45 87164971